Product Description
Tipi hire at Bestival, Lulworth Castle, Dorset 2018 2 – 5 August.
We hope everyone had an amazing time at the 2017 festival and we look forward to welcoming you to Bestival 2018 soon!

For further information please email eve@eves-tipis.co.uk   We have tipis, tipi tents, and bell tents available either unfurnished or with furnishings and bedding – please specify if bedding is to be singles or doubles.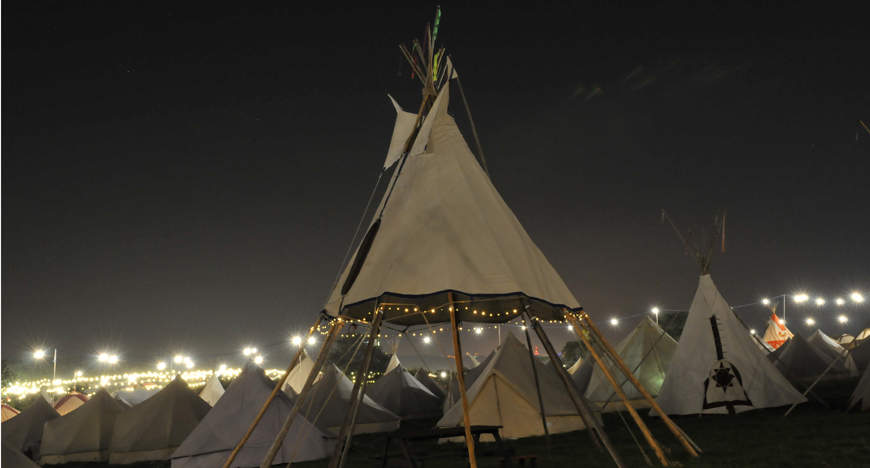 Thank you to everyone coming to our last festival of the 2017 season.
We hope you had a great stay with us and look forward to seeing you again!
£50 loyalty discount for repeat customers.
It's true what they say……tipi people have more fun !!!
Tipis are a spacious option, as even the smallest ones have 9ft headroom in the centre, so plenty of room to stand up in – no need to spend the week-end bent double!
We also have some tipi tents, which offer alternative budget accommodation. These are a hybrid between a tipi and a bell tent and have one central pole, plus a rain cap.

Tipi tent


Eve's Tipis will be situated in the Boutique Campsite, an exclusive luxury camping zone. This is a secure area with the use of quality toilets and showers.  There will be a bar and food outlet on site.  We offer a range of tipi sizes to suit couples and larger groups.  If you are arranging a large party such as a stag or hen 'do' and wish to book several tipis together, then let us know and we will arrange this for you.
Don't forget to bring your phone chargers and hair equipment as we will be offering free phone charging as well as a hair & make-up station for our customers in one of  our colourful  tipis.
You can order bedding as part of your booking or you can bring along your own, plus any necessary camping equipment needed. Boutique Camping has hot showers, toilets, boutique car park and other facilities provided.   

There will be security and plenty of room to relax and enjoy your time away from the main arenas, as well as a lovely chill out cocktail bar and food/coffee stalls.
The Boutique Camping area is around a 10-minute walk to the main stage with plenty to see on the way.
Your tipi will be ready for you to move into when you arrive at the festival, so no wasting party time setting up camp – the fun starts now!
NB: You need to buy a Bestival Weekend Camping Ticket in order to stay in Boutique Camping.
In the event of cancellation the amount of deposit you will be refunded is explained under Ts&Cs and an administration fee of £35 will be deducted from any refund due.
Before booking please read our terms and conditions
To book, please fill out the form below