Product Description
Tipi Hire at Camp Bestival 26th – 29th July 2018

We are now live for bookings! 
Thank you to everyone who stayed with us this year- we hope you had a wonderful time and we look forward to welcoming our Camp Bestival 2018 guests in July 2018.
There is a discount offered if you book three tipis or more at the same time for the same event and we also offer a loyalty discount of £50 for returning customers.
For further information please mail  eve@eves-tipis.co.uk
Lulworth Castle, Lulworth, Dorset, BH20 5QS, England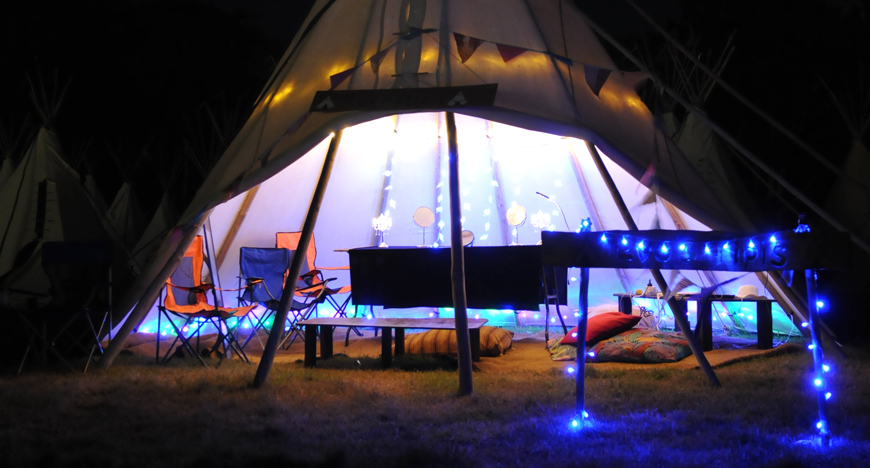 For an amazing experience sleeping under the stars hire one of Eve's Tipis unfurnished or furnished with colourful rugs and cushions and our bedding options.  Additional bedding packs  can also be purchased subject to availability.  Tipis are a spacious option, as even the smallest ones have 9ft headroom in the centre, so plenty of room to stand up in – no need to spend the week-end bent double!
Eve's Tipis will be situated in the Boutique area with posh toilets and showers and parking nearby – your car park pass is included with your tipi booking and will be posted to you before the event date.  The Boutique site is just a short walk from the Magic meadow & main arena.  There will be flushing toilets and hot showers on the site and a tea/coffee/food outlet also.  We will have the children's play tipi back again for 2018, with lots of interesting safe play.  You and your children are welcome to stay and play and the tipi will be available for a family chill out zone when unmanned.  There will also be a tipi with power for free phone charging and hairdressing/make up area with tables, lighting and mirrors for our guests to use.  If you and your friends would like to be next to each other, just add their booking details to the notes area on the checkout page with your booking and we will do our best to pitch your tipis in a group.  Tipis may not be able to be pitched next to tipi tents or bell tents.
We also have some tipi tents, which offer alternative budget accommodation. These are a hybrid between a tipi and a bell tent and have one central pole, plus a rain cap.

Tipi tent
Unfurnished tipis come with groundsheet and carpet or coconut matting, led light & rain catcher.  Unfurnished tipi tents come with groundsheet only.  Furnishing packages include single or double bedding, colourful rugs,  faux sheepskins, large cushions, small low table and led lantern & fairy lights (furnishings & lighting may vary).   Bedding packages include foam mattress, sheet, warm duvet & pillows.
If you do not order bedding as part of your booking please remember to bring along your own, plus any necessary camping equipment needed. 
BBQs and small camp cookers are allowed if used outside the tipis and at a safe distance from the canvas.  no gazebos or pop-up tents are allowed on the Boutique site, but it is a good idea to bring a small windbreak, provided it is safely pegged down, if using a cooker.
When you book you will receive an automated confirmation email from our website.  Receipts will be sent to you once full payment has been made and festival details & car parking permits will be sent by post before the festival.
In the event of cancellation the amount of money you will be refunded is explained under Ts&Cs and an administration fee of £35 will be deducted from any refund due.