Product Description
 Isle of Wight Festival 2018 Tipi & Bell tent Hire.   
As part of the re-organisation of IOW festival Boutique Camping will now be run in conjunction with Pink Moon, but we will have our own tipi field as in previous years.
Just a quick note to thank all of our lovely guests for staying with us at IOW Festival 2017.  We hope you have a wonderful time in 2018!
Eve's Tipis will be providing tipi accommodation at Isle of Wight Festival 2018.  Tipis are a spacious option, as even the smallest ones have 9ft headroom in the, so plenty of room to stand up in – no need to spend the week-end bent double!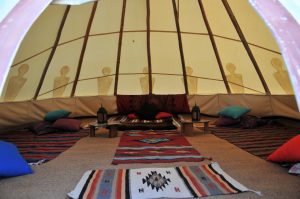 Picture depicts one of our larger tipis with luxury furnishings.

You can book just a basic tipi or add furnishing OR bedding packages. NB Furnishings may vary.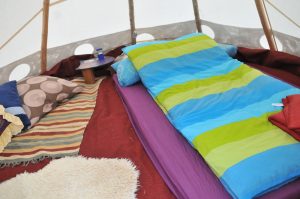 Tipi for 2 with double bedding pack. (SOLD OUT)
We also have some tipi tents, which offer alternative budget accommodation. Tipi tents are a hybrid between a tipi and a bell tent and have one central pole, plus a rain cap. Unfurnished tipi tents come with groundsheet only.
Tipi tents
Within the Tipi field we will have :-
* Free phone charging facilities
* A large tipi with floor cushions, tables, mirrors and power supply for  Hair & Make-up for you to chill in and chat as you create the ultimate festival look!   Please bring your own marked chargers, hairdryers and pumps.
* Chill-out area with benches and decorated with dream-catchers, lanterns and fairylights.
* Private showers and toilets for exclusive use of tipi field customers.
* 24 hour security and wristbanded access for your safety
Please make sure you book soon to avoid disappointment!
If you missed out for 2017, fancy trying something different or can't wait to come back, you can reserve your tipi now. 
A weekend camping ticket will be required plus a car parking ticket, if you are bringing a car. For details of festival tickets and information please go to www.isleofwightfestival.com.
The 2018 Tipi Village will be better than ever!!
Entry to the village will be by wristband and we will have quality toilets and hot showers in our field.
We will bring you further information on all the facilities available in the Tipi field as it unfolds…
If you and your friends would like to be next to each other, just add their booking details to the notes area on the checkout page with your booking and we will do our best to pitch your tipis in a group.
Unfortunately we cannot allow any pop-up tents or gazebos in our tipi field, but you are welcome to bring a wind break provided it is securely anchored.
Receipts will be sent to you once full payment has been made.  
Please bring a copy of your receipt to show on entry.  When you arrive you will be directed towards the tipi field – you will see the tipis from the walkway down to the site.  Check in at our reception, where you will be issued with your wristbands and shown to your tipi.
Please note: Fires are strictly prohibited in any area of the tipi field and there are no naked flames or smoking allowed in the tipis.
The walk from the Tipi Field to the Main Stage is approx. 1 km.
For further information please contact us.
You can order bedding as part of your booking or you can bring along your own, plus any necessary camping equipment needed. Furnishings consist of colourful rugs, cushions, small low table, lantern and fairy lights (furnishings & lighting may vary).
Bedding includes foam mattress, sheet, duvet & pillows.
When you book you will receive an automated confirmation email from our website.  In the event of cancellation the amount of deposit you will be refunded is explained under Ts&Cs and an administration fee of £35 will be deducted from any refund due.
Please note : no part of the structure should be changed or removed as this may render the structure unsafe or prone to excessive water ingress in the eventuality of rain.  If any part of the structure is damaged, altered or tampered with, Eve's Tipis will not be held responsible for any rain ingress or collapse of the structure.