Product Description
Tipi Hire For V-Dub Island 2017
!!Bookings open soon!!  We hope you enjoyed the 2017 festival 🙂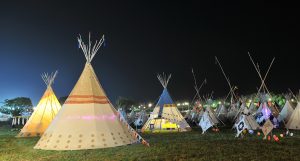 Thank you to all who stayed in one of our tipis last year – we hope you had a great time at the festival!

Eves Tipis will be offering tipi hire at V-dub Island 2018 and we will be bringing you information as it unfolds – your chance to try a new experience under the stars.  Tipis are a spacious option, as even the smallest ones have 9ft headroom in the centre, so plenty of room to stand up in – no need to spend the week-end bent double!
The tipis are based and traditionally built on the Sioux design.  We also supply tipi tents (similar to a bell tent with a central metal pole) and traditional bell tents.  The 4 person bell tents will fit 4 single or 2 double mattresses and the 2 person bell tents will fit two single mattresses.
Please see V-dub Island website for details of  campsite, ticket sales etc. www.v-dubisland.com

PLEASE NOTE : Festival tickets will be included for each tipi hire booked, but there is no reduction in tipi price if you have previously purchased tickets from another source.
Dogs are allowed into the festival, if you would like your doggies to join in the fun in the tipi we apply a refundable damage deposit of £150 per tipi as little puppies have been known to chew through ropes and things !
Please ask us in advance.
Tipis can be hired unfurnished or with optional furnishing packs and bedding packs.  Car parking will be allowed near the tipis – one car space for each tipi.